It's Important to Keep Your Car Well Maintained.
Your brakes are one of the most important safety features on your vehicle. Brakes are designed to slowly wear as you use them. That's why it's so important to visit your Ford Dealership where an expert technician can perform a thorough inspection and complete any needed maintenance or repairs.
A study from TRIP, a national transportation research group, shows that 33 percent of major U.S. roads are in poor condition. Driving on these roads costs motorists an average of $377 in extra vehicle repairs. Knowing this, you want to make sure your vehicle's tires are in optimum condition to handle the roads.
Today's vehicles are some of the most technologically advanced machines ever produced. Even an oil change isn't as basic as it used to be. Our expert Ford Service techs know their stuff and have the right parts to help make sure the job gets done right.
access_time Service Hours
Mon 7:30am - 6:00pm
Tue 7:30am - 6:00pm
Wed 7:30am - 6:00pm
Thu 7:30am - 6:00pm
Fri 7:30am - 6:00pm
Sat 7:30am - 1:00pm
Sun Closed
Get Everyday Special Financing on Vehicle Service With the FordPass® Rewards Visa® Card. *
Enjoy 0% Intro APR* for six billing cycles from the date of purchase on <strong>Quick Lane® purchases over $499</strong>. Earn 11,000 FordPass Rewards Points** after your first purchase. After your six billing cycles expire, you have a variable APR of 22.24% - 29.24% based on the prime rate, depending on how you meet our credit criteria.
Important Information
Please see the <a href=https://www.firstbankcard.com/lynx/api/v1/lynx/soct/FFXN7C8LZW8P5 target="_blank">Summary of Credit Terms</a> for important information on rates, fees, costs, conditions and limitations. Minimum monthly payments required.
<strong>You must pay your entire statement balance (including all promotional purchase and balance transfer balances) by the due date each month to avoid being charged interest on new purchases from the date those purchases are made, unless your new purchases are subject to a 0% interest rate.</strong>
Special Financing Offer Details: Purchases in which single or multiple items are purchased...Special Financing Offer Details: Purchases in which single or multiple items are purchased in the same transaction totaling at least $499.00 at Ford Dealerships and Quick Lane Stores will be referred to as "Eligible Purchases" in your Summary of Credit Terms. All transactions are subject to approval. Accounts are eligible only if they are open, in good standing and not already subject to special terms. All other terms of your account remain in effect. Minimum monthly payments required.*For additional information about Annual Percentage Rates (APRs), fees and other costs, see the Summary of Credit Terms. **See the FordPass Rewards Visa Terms and Conditions in the Summary of Credit Terms. Points are not redeemable for cash or check. Please see the FordPass Rewards Program terms and conditions at FordPassRewards.com for information regarding expiration, redemption, forfeiture and other limitations on FordPass Rewards Points. Must be enrolled in FordPass Rewards.Cards are issued by First National Bank of Omaha (FNBO®), pursuant to a license from Visa U.S.A., Inc. Visa and Visa Signature are registered trademarks of Visa International Service Association and used under license.View DetailsHide Details
Expires: 12/31/2023
Print This Coupon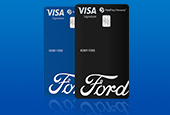 Auto Service Advice
Write a note below and one of our friendly service experts will get you an answer.